2019 Career Award for Science and Mathematics Teacher recipient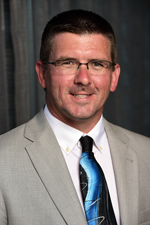 Justin Jones
Ansonville Elementary School, Anson County Schools
Justin Jones teaches fourth and fifth grade science at Ansonville Elementary School. Prior to beginning his teaching career, Jones received his BA from the University of North Carolina at Charlotte and worked for nine years in the biomedical field.
As a result of his hands-on "learn by doing" approach to teaching and learning science, student achievement in science has increased tremendously and the science program at Ansonville Elementary School has been transformed to include opportunities for students such as robotics club, STEM club, a school garden and greenhouse, and much more. Jones and his students are also involved in sharing their excitement for science with families and their community through an annual AES Science Night, science demonstrations at community events, and other opportunities for hands-on learning in the community and at other schools in Anson and surrounding counties.
Jones has also received recognition for his work in the classroom through participation in a Kenan Fellowship with Pee Dee Electric Cooperative, a STEM Fellowship with Discovery Place Education Studio, and numerous grants and awards for STEM programs and activities in his classroom.