2014 Career Award for Science and Mathematics Teacher recipient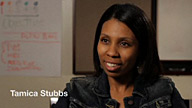 When you think of a typical high school science class, the names Jeffrey Dahmer and Son of Sam probably don't spring to mind.
But this is no typical science class. And Tamica Stubbs is no typical educator.
And those serial killers in the curriculum? They are just the tip of the iceberg.
Stubbs, a recipient of the Burroughs Wellcome Fund Career Award for Science and Mathematics Teachers, teaches a forensic science class at Phillip O. Berry Academy of Technology in Charlotte. The set-up for the class, which she has been teaching since coming to the school last year, is unlike most. Instead of a day-to-day lesson plan, Stubbs operates on a weekly schedule organized around hands-on, investigative case studies.
On Monday, students are presented with the particulars of a notable forensic investigation—the '70s-era Son of Sam killing spree in New York, for example. Throughout the rest of the week, the students go about investigating the case as if they were actual forensic professionals. One week they might look at a case through the lens of a coroner. Another, through that of a chemist. They conduct experiments and learn science principles through exercises designed to mirror the activities of real-world professionals. And they are assessed at the end of the week.
"I constantly remind them on a daily basis that you are this professional,'" Stubbs says of her class. "'You are not a student, that you are this professional."
That in a nut shell is Stubbs teaching philosophy. After  14 years in the field of education, it's become her mission to make sure that students go beyond learning what's in the textbook alone. She wants to make sure they walk away with an understanding of science that will help them successfully navigate the professional world outside the classroom.
Ultimately, she says, she wants to give students the education she would want her own child to have.
"I want them to be career-ready and not just functional," she said. "I want them to feel empowered to pursue a particular job, not just equipped to pursue a diploma."
The best way to describe Stubbs' teaching, according to Phillip O. Berry principal Curtis Carroll, is that she is a facilitator of learning. Her lessons tap into various instructional strategies that apply to many different learning styles and intelligences to ensure students' success, he said.
"What is so exciting about Ms. Stubbs' teaching approach is that the students are responsible for their own learning," Carroll said. "Failure is not an option in Ms. Stubbs' class. Students succeed in the class because Ms. Stubbs routinely requires them to think creatively and critically; develop and test new ideas; and frame, analyze and solve problems. This requires students to make complex choices and synthesize knowledge that encompasses all students regardless of the ability level."
Throughout her career, Stubbs has taught children in areas marked by high poverty and low academic performance. Part of the reason she has such a focus on making sure students are on a path to being career-ready when they leave her classroom is that many of the children she teaches have not had access to or an understanding of the possibilities that exist for them in the world of science.  And she is up to the challenge. 
"In all honesty, when you can capture a student's imagination, energy and focus, you can teach them anything you want," Stubbs said.
She said she has had students tell her they want to be doctors, but those same students often don't appreciate the wide variety of positions available in the medical field, from neurosurgery to nursing to nutrition. When they are forced to think like professionals in her class, Stubbs' students gain new insights into the opportunities that are available to them.
"They gain a great deal of technical ability because throughout the week you have to set them up with a series of experiments," she said. "They actually get a hybrid of technical experience and lab experience as well as the content they're supposed to learn anyway [in the textbook]. They walk out of class feeling empowered."
In addition to acting as an inspiration to her students, Stubbs is also a leader among her colleagues. She has been teaching at Charlotte Mecklenburg Schools since 1998, ten of those years as a biology instructor at Waddell High School, which the school board shuttered last year in a controversial vote. She has been involved with numerous after-school science programs and served on several academic service panels. In addition to the honors and professional awards she has received from the Burroughs Wellcome Fund and other organizations, she has received eight educational grants totaling about $750,000.
Stubbs said that the Career Award for Science and Mathematics Education, which provides $175,000 over a period of five years to eligible teachers in the North Carolina public school system, has been instrumental in advancing her professional development.
"I think it's made me more of a leader in the science teaching profession," Stubbs said. "I've pretty much quadrupled my outreach to local, state and national teachers through conferences and workshops. It's done a great deal, particularly for that part of my profession."
It all goes back to her commitment to stay up to date with the most current trends and ideas in the science field, in order to better prepare her students for those real-world situations they'll encounter once they leave the classroom.
"Your effectiveness as a teacher–especially as a science teacher–is only as good as your updated experience, your world around you." Science is always being updated and it's always changing," she said.  "You can't teach out of an outdated textbook."
Of course, Stubbs is doing so much more than teaching students what's in the textbook. As she tells her students, science is all around us. You just have to look for it.
"Society hinges on science and your understanding and your ability to apply your science knowledge and your skills. Your engineers, even your artists, your culinary professionals—it all hinges on science."
By Jim Walsh