2017 Career Award for Science and Mathematics Teacher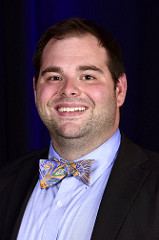 Brad Rhew 
Cook Literacy Model School
Winston-Salem Forsyth County Schools
After graduating from the University of North Carolina at Greensboro in 2010 with a Bachelor of Education degree in Middle Grades Education with concentrations in science and social studies, Brad spent his first six years teaching at Walkertown Middle School in the Winston-Salem/Forsyth County School System. His performance was recognized with the Promise Award, a prestigious award given to teachers showing great potential, responsibility, ingenuity, and innovation in their first year of teaching within the county. In 2014, his teaching excellence was again recognized, being selected to receive the Outstanding K-8 Educator Award given by the SMT Center. In addition, he has also received the SciWorks Innovation in Science Education Award and the NCAE Educator of Excellence Award.
When Cook Elementary School announced that it would become Cook Literacy Model School as part of a federal restart process in the Fall of 2016, Brad jumped at the opportunity to become Science Lead Teacher in order to work with students in multiple grade levels, sparking their passion and curiosity for science. In 2017 Rhew participated in the NOAA Teacher at Sea program off the coast of Oregon to study the Hake fish population.
Rhew is a National Board Certified Teacher, a Kenan Fellow and also a North Carolina Science Leadership Association Fellow. He was appointed by N.C. Governor Roy Cooper to serve on the Governor's Teacher Advisory Committee which provides critical knowledge, skills, and experience to the ongoing conversations about improving North Carolina's education system.