2019 Career Award for Science and Mathematics Teacher recipient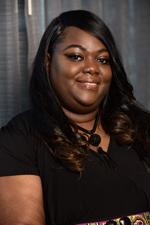 Casandra S. Cherry

Phillips Middle, Edgecombe County Schools
(Ed. note: Ms. Cherry passed away in 2019 after a brief illness.)
My philosophy as an educator is that I strive to find the abilities in all children I teach, and empower them to believe in those abilities and be the best people they can be. My goal as an educator is to prepare students globally, instill a growth mindset, and foster an appreciation for math and science.
I attended Elizabeth City State University and graduated with honors –Cum Laude in May of 1997 with a Bachelor of Arts Degree in Sociology-Social Work. Upon graduating I worked as a high risk social worker level one with parents and children at Tideland Mental Health in Beaufort, County NC.
I have 19 years of experience in middle school and elementary education- K-8. I started my teaching career in the field of Special Education middle school and elementary school levels during the first 14 years of my teaching career. I transitioned to general education math and science in 2014 -6th grade. I am currently employed as a Multi-Classroom Leader for math and science at Phillips Middle School in Edgecombe, NC (2017). This position is in partnership with Public Impact- Opportunity Culture. Through this role I have participated in the New Leaders- Emerging Leaders Program (2017-2018). During this time as a Multi-Classroom Leader I became interested in Maker Spaces and S.T.E.A.M and how to utilize them for math and science classes.
Recognitions:
Recognized during Feb. 2019 for Black History Month African American Multi-Classroom leader- middle school teacher in Edgecombe County. This recognition was titled, "I Am Carolina's Black History"- recognized by radio station Foxy 107/104 and K97.5. As a special educator I was awarded the NC Special Education Teacher of Excellence Award in 2013. 2019 Recipient of Bright Idea Grant- STEM and NC Aquarium Scholar Grant. Various teacher of the year recognitions at the school level and finalist at the county level.