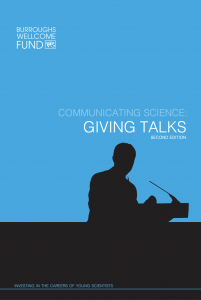 Communicating Science: Giving Talks is the first in a series of career development guides published by the Burroughs Wellcome Fund.
Communicating Science provides advice from scientific speakers, tips on putting together talks, insights into how to use technology to your benefit, horror stories about speeches gone wrong, and pointers to inexpensive, approachable resources available in most communities to polish speaking skills and gain confidence.
Email Russ Campbell at news [at] bwfund.org for a free print copy.
Electronic versions of Communicating Science can be found at: