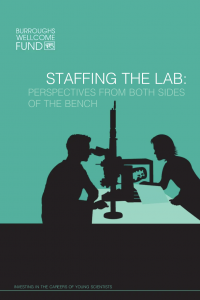 Staffing the Lab:  Perspectives from Both Sides of the Bench
answers the question of how to find the best laboratory to work in after a researcher has finished her doctoralprogram. It also takes the perspective of the principle investigator looking for a candidate to fill a position in her lab.
Staffing the Lab shares the advice and experience of established Burroughs Wellcome Fund awardees and associates.
For a free copy of Staffing the Lab, email Russ Campbell at news@bwfund.org and include your mailing address.
DOWNLOAD Staffing the Lab
Scribd:  Staffing the Lab:  Perspectives from Both Sides of the Bench