For the past 25 years, the Burroughs Wellcome Fund has championed educational efforts in North Carolina through investments in STEM education. Since 1996, BWF has invested more than $100 million to support initiatives and networks in STEM education. In addition to funding, BWF provides opportunities for interactions with colleagues and engagement with the broader community of educators and grant recipients across other BWF programs.
Videos:
NCTOY Dinner Panel:
https://vimeo.com/779492792/97a995b710
Disabilities in STEM and NCCAP General Session:
https://vimeo.com/779837044/2932870843
NC PSF and Flood General Session:
https://vimeo.com/779875019/9f8ca83d9b
Lunch Panel – Inclusiveness and Belonging in STEM – STEM for All:
https://vimeo.com/779880418/f20cff9502
Additional conference materials and resources are password protected and available to registered attendees and BWF grantees.  Special requests for access should be sent to amays@bwfund.org.  Note that materials are for conference attendees only and must not be shared more broadly without expressed content by the Burroughs Wellcome Fund.
###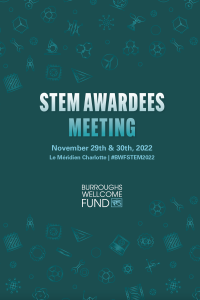 Download the booklet (updated 12/15/2022)
#bwfstem2022 Awardee Meeting#bwfnetwork #bwfssep #bwfcast pic.twitter.com/TVoYmDDoBB

— Alfred M. Mays (@amays_bwfund) December 9, 2022
Great day presenting Nurture Your Nature at the Burroughs Wellcome Conference. It is all about making kids feel connected. ⁦@BWFUND⁩ ⁦@kenanfellows⁩ pic.twitter.com/b3MqQ3DHwA

— Renata Crawley (@renatacrawley) November 30, 2022
Exploring the BWF Teacher of the Year journeys with Maureen Stover, Eugenia Floyd & Leah Carper
Moderator: Dr. Yvette Huet#bwfstem2022 pic.twitter.com/482PM2H210

— Burroughs Wellcome Fund (@BWFUND) November 30, 2022
Presenting at the BWF STEM Awardees meeting – sharing science, connections, and impact.

The heart of my #bwfcasmt grant:

🌿Nature
🎨Art
🏔️Field experiences
🔬Scientists
🌎Global citizenship#ExplorerMindset@amays_bwfund #bwfcast #BWFSTEM2022 pic.twitter.com/VPbjj86qqm

— Beverly Owens, NBCT (@owensscience) November 29, 2022