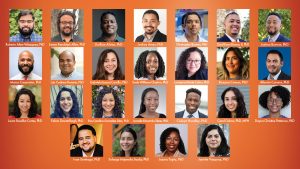 RESEARCH TRIANGLE PARK, N.C. – The Burroughs Wellcome Fund (BWF) is proud to announce the recipients of the prestigious 2023 Postdoctoral Diversity Enrichment Program. This program aims to foster diversity and inclusivity in scientific research by providing support to outstanding postdoctoral fellows from underrepresented backgrounds. The highly competitive selection process yielded a group of talented individuals who have demonstrated exceptional promise in their respective fields.
Selected from a large pool of applicants, the 2023 Postdoctoral Diversity Enrichment Program recipients represent a wide range of scientific disciplines and research interests. Their innovative projects are poised to contribute to groundbreaking discoveries and advancements in their respective fields. The BWF is thrilled to support these exceptional scholars as they embark on the next phase of their scientific research and pursuit of independency in academia.
The 2023 Postdoctoral Diversity Enrichment Program recipients are:
Roberto Alers-Velazquez, PhD
Dartmouth College
Mechanism for HSV-1 neuroimmune modulation and neurological sequelae on neonates
James Randolph Allen, PhD
Harvard Medical School                    
Tox as an oncogenic driver in acute lymphoblastic leukemia 
Jhullian Alston, PhD
Harvard Medical School
Single-Molecule Studies of Disorder in Transcription Factor Fusion Oncoproteins 
Joshua Ames, PhD     
University of Washington
Investigation of surviving resident brain cells as source of inflammatory sequelae following acute non-persistent viral encephalitis 
Christopher Bourne, PhD
University of Pennsylvania, Perelman School of Medicine
Eradicating Cancer through Inflammatory Cell Death
Daril Evan Brown, II, PhD
University of California-Davis          
Developing faster, more accurate, and less frustrating communication neuroprosthesis for people with lost or diminished speech
Joshua Burrow, PhD
Brown University
Equitable physiological monitoring enabled by reconfigurable metasurfaces
Marco Carpenter, PhD
University of Pennsylvania
Unique features of the fetal brain permit non-viral mRNA delivery 
Luis Cedeno-Rosario, PhD
The University of Utah
Mitochondrial lipid signaling and metabolic regulation in health and disease
Gabriela Lizana Carrillo, PhD
Harvard Medical School
Development of facial motor neuron subtypes in health and congenital facial weakness
Sade Williams Clayton, PhD
Washington University in St.Louis   
Characterization of the role of immune cell infiltration in intervertebral disc regeneration and healing.
Lorianna Marie Colon, PhD
University of Pennsylvania
Sex Differences in Opioid Relapse: Targeting Dentate Gyrus to Prevent Relapse to Drug-Taking 
Roxana Coreas, PhD
University of California, Berkeley
Leveraging Biomolecular Corona to Enhance Agricultural Nanobiotechnology
Alberto Corona, PhD
Icahn School of Medicine at Mount Sinai     
Norepinephrine-sensing habenular microglia and stress-related behaviors
Laura Rosalba Cortes, PhD
University of California Los Angeles
The neural control of thermoregulatory changes accompanying pregnancy
Felicia Davatolhagh, PhD
University of California, Los Angeles School of Medicine
Role of Neurexin1apha within Cortical Circuits during Visuomotor Decision-making
Eva Carolina González Díaz, PhD
University of California, San Francisco
Engineered 3D models to study the role of tumor-microbe crosstalk on metastasis and drug resistance 
Jonnelle Edwards-Glenn, PhD
Case Western Reserve University School of Medicine
Pliable Transcriptomic and Epigenomic Control of Air Pollution Induced Atherosclerosis
Colwyn Headley, PhD
Stanford University
Ameliorating Aging-Associated Vascular Dysfunction Through Mitochondrial Transplantation 
Carol Ochoa, PhD, MPH
University of California, San Diego
Exploring the social economic needs and survivorship care experiences of adolescent and young adult cancer survivors, families, and the healthcare team
Dayna Christine Patterson, PhD        
Northwestern University
Biological pest control: natural product characterization and biosynthesis from mutualistic bacteria
Ivan Santiago, PhD    
McLean Hospital
Unraveling the neural circuitry of aggression in aging and neurodegenerative diseases
Solange Majewska Saxby, PhD       
University of Iowa
Progressive Multiple Sclerosis and Lifestyle and Diet Therapeutics (ProMS Life).
Jazma Tapia, PhD      
City of Hope Comprehensive Cancer Center
Characterization of Paraben-mediated Effects in Diverse Luminal and Triple Negative Breast Cancer Cell Lines
Janette Vazquez, PhD
University of Texas Health Science Center at San Antonio
Impact of Mid-Life and Late-Life Ideal Cardiovascular Health with Trajectories of Cognitive Aging in Mexican Americans and non-Hispanic Whites
Each recipient will receive a generous financial award, enabling them to pursue professional development and research projects with the necessary resources and support. Additionally, they will have access to mentoring and networking opportunities through the Burroughs Wellcome Fund's extensive network of established scientists and professionals.
Dr. Louis J. Muglia, President and CEO of the Burroughs Wellcome Fund, expressed his enthusiasm for the 2023 cohort, stating, "We are delighted to support these talented postdoctoral fellows through the Postdoctoral Diversity Enrichment Program. Their research projects not only demonstrate scientific excellence, but they also possess the leadership skills and motivation to become outstanding in their field of research. We believe that diversity and inclusivity are essential for driving innovation and solving complex problems in science and society."
The Burroughs Wellcome Fund remains committed to promoting diversity, equity, and inclusion in the scientific community. Through initiatives like the Postdoctoral Diversity Enrichment Program, BWF aims to foster a more representative and inclusive scientific workforce that reflects the diversity of the world we live in.
For more information about the Burroughs Wellcome Fund and its programs, please visit bwfund.org/pdep.
About the Burroughs Wellcome Fund
The Burroughs Wellcome Fund is an independent private foundation dedicated to advancing biomedical science by supporting research and education. With a focus on innovation, the BWF invests in the development of early-career scientists and interdisciplinary programs to foster scientific discoveries and solutions to complex challenges in health and medicine.
Contact: BWF Communications at news@bwfund.org