Mays to manage science education and diversity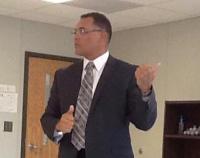 RESEARCH TRIANGLE PARK, N.C. –  Alfred Mays, the founder of EdSync Strategies and the former assistant director of the Collaborative Project, has been hired as a  program officer at the Burroughs Wellcome Fund.  The hiring of Mr. Mays signifies a continued interest by the Fund to connect government, business, and education leaders across North Carolina.
Mays will be responsible for managing grant competitions in science education and diversity of science.  He will also work closely with the North Carolina Science, Mathematics, and Technology Education Center.
Mays said, ""I am excited about the opportunity to join such a dynamic organization as the Burroughs Wellcome Fund.  As the new program officer for Science Education and Diversity, I look forward to working closely with constituencies within the research and education community in the continued development, promotion, recognition, and support of science education.  I truly believe that North Carolina's future successes lie in the ability to expose and engage all students with quality science programming and instruction.  The Fund's mission supports the framework for that outcome."
Most recently, Mays was the founder of EdSync Strategies, Inc., an education contract service that provided assistance to NC eLearning Commission, NC STEM Learning Network, rural NC public school systems and the Public School Forum.  From 2007-2011, he served as the assistant director of the Collaborative Project, an initiative that "sought to strengthen participating school systems serving low-income students in rural areas of the state."
Mays has also worked with the University of North Carolina General Administration, serving as the director of information resources and director of special projects.
Burroughs Wellcome Fund President Dr. John E. Burris said, "Alfred Mays is well-known to be an innovative thinker and leader in North Carolina.  I look forward to working with him to develop and sustain programs to help better STEM education in North Carolina and provide opportunities for underrepresented minorities to view STEM as a viable career endeavor."
Mays received his B.S. from Wilmington College and M.S. in Administration from Central Michigan University.  He served in the U.S. Air Force from 1984-1994, providing information system and data management support for various Air Force missions.
Dr. Sam Houston, president and CEO of the North Carolina Science, Mathematics, and Technology Education Center said, "Alfred Mays knows the North Carolina education landscape well and is talented in working with educators and young people – he is a great choice for this position with a demonstrated respect for the importance of educational opportunity for all young people."
###