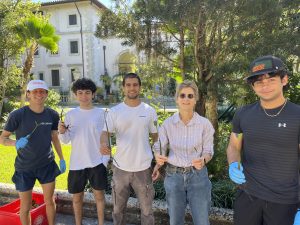 Ahzin Bahraini was in Miami when Tropical Storm Alex, the first named storm of the 2022 Atlantic hurricane season, dropped over a foot of rain in parts of South Florida. She watched as the grass-lined canal that runs along the neighborhood of Allapattah flowedonto the road and engulfed a highway ramp. Homes were flooded and residents were displaced. Bahraini, a PhD candidate at the University of Miami, thought, "If this is from a storm, what will a hurricane do?"
Climate change is an existential threat to everyone, everywhere, but residents of Miami may be among the first to feel its effects. According to the nonpartisan climate think tank Resources for the Future, Miami is the most vulnerable major coastal city in the world. "We're hit with a bunch of environmental issues on a day-to-day basis — flooding is nothing uncommon here," said Bahraini.
Now, Bahraini, who is also the executive director of the educational nonprofit Ketáb, is trying to do something about it. With a seed grant from the Burroughs Wellcome Fund, she has launched the Miami Mangrove Mission. The project educates youth on climate change and enlists them to plant mangroves along the flood-prone canals in underserved neighborhoods to reduce flooding in Miami streets.
Her project is one of 20 small, early-stage grants funded over the last year through the Climate Change and Health Seed Grants program. BWF has devoted $1 million to the effort, which aims to stimulate new connections between scholars working in largely disconnected fields who might together change the course of climate change's impact on human health.
"This funding mechanism is unique because it is targeting a big, global problem that is just as much about society as it is about science," said Victoria McGovern, a senior program officer at BWF. "We've funded grassroots museum collaboratives, outreach and communication efforts, work with youth and marginalized communities, as well as basic research."
Measuring effects
Several recipients of BWF seed grants are examining various ways climate change is affecting human health. Their projects will chart the impact of a warming planet on the evolution of infectious diseases, the incidence of preterm birth, and the quality of early childhood development.
Researchers at the University of Texas Medical Branch at Galveston and Stanford University are interested in understanding the mechanisms driving the emergence and reemergence of arboviruses, such as chikungunya, dengue, and Zika. They are combining genomics, geospatial analysis, and AI to develop models aimed at predicting where the next arbovirus-driven pandemic will arise. In a similar vein, BWF funding is helping to establish a collaboration between scientists at Texas A&M University and the University of Illinois to explore the effects of extreme weather on West Nile virus.
Another project is searching for patterns that can predict the future by examining the distant past. Experts at the University of Florida's Museum of Natural History and the University of Florida will use historical epidemiology to conduct a retrospective study of the Black Death, which started a nearly 500-year pandemic blamed for killing half of Europe's population. The team believes that their framework can be adapted to other diseases and time periods, making it possible to leverage thousands of years of insights into climate and health.
Climate change has been linked not only to infectious diseases but also to an array of other human ailments, including respiratory and heart diseases, mood and anxiety disorders, and water- and food-borne illnesses. Rebecca Fry, a public health researcher at UNC, thinks preterm birth should be added to that list. Preterm birth currently affects 15 million infants worldwide and 10% of all births in the United States, yet for most cases its exact cause remains a mystery. Fry is using a BWF seed grant to examine the potential role that rising temperatures and chemical exposures play in preterm birth.
"We think that extreme heat may increase the toxicity or the dosage of a number of chemicals," she said. "For example, when it's very hot, people may drink more of their well water, which may be contaminated. Heat could also lead to drought, which can change the chemical levels in groundwater where many toxic metals enter water supplies."
Fry and her team of researchers at UNC and EPA will combine data from more than 1.3 million birth certificates with well-water tests, measures of fine particulate matter, and heat records, to create one of the largest ever cohorts for examining how the environment, including the changing climate, impacts carrying babies to full term. "This is a substantial undertaking," she said.
Elsewhere, researchers at the University of South Carolina are employing big data methods to assess the impact of three decades worth of extreme weather events on early childhood development. They hope their study leads to larger, global analyses and provides much-needed evidence for policies tackling climate change and pediatric health.
Empowering communities
The climate crisis will not affect everyone equally. Studies show that the consequences of a warming planet – among them, heat waves, hurricanes, droughts, floods, and wildfires — are already having a disproportionate impact on the health of people of color, including children. The latest BWF seed grants have inspired several new projects that are empowering the communities most affected by climate-related anxiety and environmental injustice.
Through the Miami Mangrove Mission, Bahraini and her collaborators are engaging in discussions about climate change with the underserved high school students that her nonprofit Ketáb serves. Many of those students live along the river and have seen their neighborhoods flooded. As part of the project, students at Miami Senior High School helped to build a greenhouse on their campus to cultivate dozens of mangrove pods collected along the shores of Miami Beach. They nurtured these seeds until they sprouted, and then helped to plant the maturing mangrove shoots along flood-prone Miami banks.
"I think the students feel empowered," said Bahraini. "They're realizing that they do have the power to make a change and to be part of the solution."
In the San Francisco Bay area, an organization called the Mycelium Youth Network is using BWF funding to assess how teaching kids to build resilience and take action in response to climate change can improve their social-emotional wellbeing. In the Great Lakes Region, researchers at Michigan State University are piloting a peer-to-peer networking program for undergrads as they lead their own research projects on the impacts of climate change in their communities. And in North Carolina, researchers at UNC are developing hands-on STEM instruction, using solutions-focused case studies, to educate students in the Durham public schools about extreme heat.
Other youth-focused initiatives are using the arts and the media to challenge kids to think differently about climate change and join in the climate conversation. A theater director in New York is creating a full-scale stage production about climate empowerment called "A Spork in the Road." A PBS station in North Carolina is temporarily handing over its control panel to high school students, who will organize, attend, and report on an "unconference" on climate change and human health. A partnership between the Museum of Life and Science and the Hayti Heritage Center, called Imagine Durham, is partnering to create humanities and arts displays for youth and their families.
Training researchers
Climate change has been increasingly understood as an interconnected problem that requires the contribution from different perspectives and skillsets. "Yet due to the way that institutions are structured, we easily live in our scientific bubbles separated by scientific disciplines, which makes it difficult to connect across different fields and combine different perspectives for more effective problem solving," said Gabi Steinbach, a research scientist at Georgia Institute of Technology. Steinbach is one of several grant recipients developing training and opportunities for different stakeholders to join forces and tackle the greatest health threat facing humanity today.
BWF funding has enabled Steinbach and her collaborators to create a cross-disciplinary fellowship program that will help lay the groundwork for one day establishing an Institute for Health and the Environment at Georgia Tech. The year-long training program for graduate students  includes leadership training and a seminar series. It culminates in a capstone project, which is a symposium organized by the trainees on a topic of their choosing. This year, the 11 inaugural fellows chose to focus on the health effects of urban air quality in the age of climate change, bringing together experts from various scientific backgrounds as well as non-profit advocacy organizations.
"The fellowship program was the first major step in creating a visible community," said Steinbach. "It shows that our vision of creating teams around impact-driven goals can be more than just an idea, and that people want to engage with these types of questions in interdisciplinary environments across academia and beyond."
Other seed grants have helped scientists build valuable skills for addressing the climate crisis. At the University of Tennessee, a BWF-funded team designed a two-day workshop on quantitative modeling for grad students in the life and earth sciences who are interested in exploring the interface between climate science and health. A few select participants then had the opportunity to attend a workshop on successful collaboration by the EDGE (Enhancing Diversity in Graduate Education) Foundation. Another project, by the UNC Morehead Planetarium and Science Center, created an online course or "micro-credential" on science communication for climate science and public health experts who want to convey the importance of their research to the lay public.
One of the most powerful ways researchers can engage the public in thoughtful discourse about climate change is by inviting everyday citizens to take part in the scientific process, a practice called citizen science. With BWF funding, the North Carolina Museum of Natural Sciences is recruiting residents to participate in four ongoing citizen science projects that task them with observing and documenting various climate-related changes to their surroundings. The organizers hope that the program – which they call the North Carolina Climate Change Challenge — will inspire participants to do their part to slow or stop climate change.
Creating solutions
Focusing on solutions can help people overcome feelings of helplessness and anxiety triggered by the climate crisis. Many BWF seed grants are supporting efforts to develop innovative ways to address climate change and protect the regions and communities most at risk. Researchers at the University of Iowa are using BWF funding to create an entrepreneurship program that helps teams of researchers brainstorm and pursue ideas for novel climate change solutions. The most promising ideas will be shepherded through the start-up process, with a select few receiving additional mentorship and funding to further develop their projects.
One potential solution being explored by grant recipients at Weili Cornell Medical Center and the Red Sea Research Center involves bacteria and coral reefs. Scientists there are working to build a database of beneficial microbes or "coral probiotics" that can make coral more resilient to climate-driven bleaching.
Another project involves the restoration of a 400-year-old royal fishpond that fell into disrepair after the attack on Pearl Harbor. The partnership between Native Hawaiian youth and elders, the University of Hawaii, and the U.S. Navy is based on the notion that climate health and individual health is a dynamic, reciprocal process, and that restoring the fishpond is also an act of restoring one's wellbeing.
A similar undertaking involves testing over 20 legacy gold mining sites near the Sacred Black Hills and the Pine Ridge Indian Reservation for mercury and other toxins, a critical step toward identifying strategies to protect the Indigenous communities there from contamination and flooding.
In Miami, Bahraini believes restoring some of the ecosystems lost to urban development will be key to solving the city's incessant flooding. These days, Miami doesn't even need a storm to get washed out. "Sunny day flooding" — when saltwater from high tides fills streets and sewers – is up 400 percent since 2006 thanks to climate change. "Politicians and policymakers argue that we just need more pumps, but researchers know that the water will just keep coming back up from underneath because the foundation of the city is limestone," said Bahraini. "Mangroves soak up the water, they drink it, and so they are seriously the best solution."
She has partnered with climate researchers at the Rosenstiel School of Atmospheric and Marine Science, who will collect data after the summer on water levels, carbon dioxide levels, water acidity, and other factors to assess the impact of the initial mangrove plantings. And she has been talking with the National Parks Service about scaling up the Miami Mangrove Mission to involve more schools, mangroves, and shorelines.
"This process has required a lot of patience and flexibility," said Bahraini. "The science part of it has been very cool, but getting this connection between our researchers, the community, and other stakeholders — that has been very challenging, but very, very rewarding once it does work."
~ by Marla Broadfoot