67 PRISM Awards for STEM Education
RESEARCH TRIANGLE PARK, NC – The Burroughs Wellcome Fund supports STEM teaching professionals in their efforts to provide quality hands-on, inquiry-based activities for their students. Promoting Innovation in Science and Mathematics (PRISM) awards promotes excitement for science and mathematics in the classroom by providing funds for materials, equipment, and supplies related to the implementation of high quality curriculum and activities in the classroom.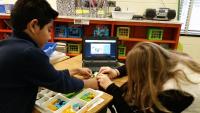 This award provides up to $3,000 for one year to cover the cost of equipment, materials, and supplies. An additional $1,500 may be requested for professional development related to the implementation of new equipment or use of materials in the classroom. Awards are made to professional educators with a license to teach in a North Carolina K-12 public school.
"The PRISM award supports STEM teachers from all across the state of North Carolina as they integrate STEM resources into their classrooms." states Alfred Mays, BWF Program Officer for Science Education and Diversity in Science. "For a relatively modest investment, we can have a major impact on a student's classroom experience."
The following 67 PRISM selections totaling $204,246.00 were approved by the Fund's Board of Directors.
Alva, Cindy
Brunson Elementary
Winston-Salem/Forsyth County Schools
Blackburn, Anita
West Wilkes Middle School
Wilkes County Schools
Blackwell, Heather
Broad Creek Middle School
Carteret County Schools
Brown, Jeffrey
Tabor City Elementary School
Columbus County Schools
Burns, Rebecca
Sherwood Githens Middle School
Durham Public Schools
Burton, Ethan
Envision Science Academy
Charter in Wake County
Cabaniss, Lara
R. Brown McAllister STEM Elementary
Cabarrus County Schools
Campbell, Beverly
Archer Elementary
Guilford County Schools
Carilli, Stacie
MCS Noble Middle School
New Hanover County Schools
Clark, Pauletta
Iotla Valley Elementary School
Macon County Schools
Cook, Shana
Bowman Middle School
Mitchell County Schools
Dooley, Max
J.M. Morehead High School
Rockingham County Schools
Duncan, Revonda
East Yancey  Middle School
Yancey County Schools
Dunn, Amanda
Charles P. Murray Middle School
New Hanover County Schools
Ferreira, Marcia
Olive Chapel Elementary
Wake County Public Schools
Foringer, Rob
Tabor City Elementary School
Columbus County Schools
Gambill, Kristen
Ogden Elementary School
New Hanover County Schools
Gillam, Kelsey
Havelock High School
Craven County Schools
Gray, Victoria
Southwest Elementary
Winston-Salem/Forsyth County Schools
Griggs, Kristi
Robbinsville Elementary
Graham County Schools
Gupton, Steven
Louisburg High School
Franklin County Schools
Haines, Rebeccah
Morehead City Elementary School
Carteret County Schools
Haislip, Samantha
Greene County Middle School
Greene County Schools
Harkey, Ashley
Belmont Central Elementary School
Gaston County Schools
Harrell, Stephanie
Contentnea-Savannah STEM School
Lenoir County Public Schools
Harwick, Elizabeth
Pamlico County Middle School
Pamlico County Schools
Hines, Beverly
Jones Senior High School
Jones County Schools
Holleman, Michael
West Wilkes High School
Wilkes County Schools
Jackson-Heard, Stephanie
North Drive
Wayne County Schools
Jimenez, Hannah
Rochelle Middle School
Lenoir County Public Schools
Kallam, Rebecca
John W. Dillard Elementary
Rockingham County Schools
Lancaster, Christina
Grandview Middle School
Hickory Public Schools
Lancaster, Heather
Wayne School of Engineering
Wayne County Public Schools
Lawson, Amy
Burgaw Middle School
Pender County Schools
Lecorchick, Douglas
Southern Lee High School
Lee County Schools
Lequire, Bobbie
Club Boulevard Humanities Magnet Elementary School
Durham Public Schools
Lutzow, Christopher
Walkertown High School
Winston-Salem/ Forsyth County Schools
Mains, Jessica
Marjorie Williams Academy
Charter in Avery County
Mauro, Brad
Boone Trail Elementary School
Harnett County Schools
Mayle, Sarah
Pleasant Grove Elementary
Alamance-Burlington Schools
McClure, Kelly
Northern Elementary School
Guilford County Schools
Midkiff, Mason
Surry Central High School
Surry County Schools
Miller-Hendrix, Susan
Public Schools of Robeson County
Public Schools of Robeson County
Minnear, Holly
Forest Hills Global Elementary School (
New Hanover County Schools
Moore, Elisabeth
Wiley Magnet Middle School
Winston-Salem/Forsyth County Schools
Nicholson, Jennifer
Oakhurst STEAM Academy
Charlotte-Mecklenburg Schools
Parnell, Ashley
Altamahaw Ossipee
Alamance-Burlington Schools
Pate, Pamela
E.B. Frink Middle School
Lenoir County Public Schools
Pawlik, Rhonda
Blackburn Elementary School
Catawba County Schools
Petersen, Mark
Smithfield-Selma High School
Johnston County Schools
Pipes, Kelly
Wilkes Early College High School
Wilkes County Schools
Pitman, Veronica
Bowman Middle School
Mitchell County Schools
Rada, Brian
Charles B Aycock High School
Wayne County Schools
Rhinehart, Leslie
Polk County High School
Polk County Schools
Rickey, Janice
Rachel Freeman School of Engineering
New Hanover County Schools
Ross, Claire
Ocracoke School
Hyde County Schools
Rush, Dale
Polk County Middle School
Polk County Schools
Scot, Chris
Arapahoe Charter School
Charter in Pamlico County
Sirkin, Marsha
White Oak Elementary
Carteret County Schools
Smith, Andrew
Pisgah High School
Haywood County Schools
Taylor, Stephanie
Grays Chapel Elementary School
Randolph County Schools
Thorne, Steven
Charles B Aycock High School
Wayne County Schools
Walmsley, Jennifer
Greene County Middle School
Greene County Schools
Westfall, Polly
Union Elementary School
Brunswick County Schools
Wicks, Tammy
Jones Middle School
Jones County Schools
Witherspoon, Caitlin
Bethany Elementary
Rockingham County Schools
Ziemba, Eric
McDowell High School
McDowell County Schools
###
Media Contact:  Russ Campbell