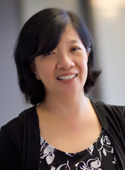 RESEARCH TRIANGLE PARK, NC – Jenny Ting, Ph.D., a professor of Genetics, Microbiology and Immunology at the University of North Carolina-Chapel Hill, has been elected to serve on the Burroughs Wellcome Fund Board of Directors.
She joined the faculty at the University of North Carolina-Chapel Hill as an assistant professor in 1984 and has been there since that time.  Currently she is a William Rand Kenan Professor of Genetics and the UNC Lineberger Comprehensive Cancer Center's Immunology Program Leader. She is also the Director of the UNC Center for Translational Immunology and the co-Director of the Institute of Inflammatory Diseases.  She has served on the advisory committee of the Fund's Preterm Birth Initiative.
"Dr. Ting's expertise is a great asset for the Fund," said President John E. Burris, Ph.D.  "Her familiarity with our work, plus her willingness to promote science and research, will help us in developing our funding strategy in research and education."
Dr. Ting has pioneered new areas of innate immunity, most notably conducting the first study describing the entire human NOD-like receptor family and has continued to be a leader in this field.  Her work combines fundamental innate immunology with molecular biology and she has reported extensively on the impact of innate immunity in infection, autoimmunity, cancer, microbiome composition, and metabolic disorders.
The Burroughs Wellcome Fund, founded in 1955, is dedicated to advancing the biomedical science by supporting research and education.  The Fund primarily supports early career scientists in underfunded areas of biomedical research and science education in North Carolina.
###
Contact:  Russ Campbell at news@bwfund.org