Program Officer Alfred Mays Provides Insight into the Career Awards for Science and Mathematics Teachers
We are here to share some important information about the Career Award for Science and Mathematics Teachers from the Burroughs Wellcome Fund.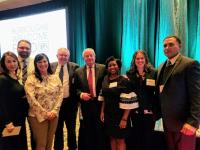 Joining me now is Fund program officer for science education and diversity, Alfred Mays, who oversees the awards program.
The Career Awards for Science and Math Teachers is one of our more recent awards.  We've had several cycles.  It's being offered every other year.  We began in 2012, and we concluded our last session in 2016.  Now we're upon our next cycle, and we're looking forward to creating great awareness across the state with this particular award, as its titled, it recognizes the best and brightest in STEM across the state.  It references science and math, but we like to say that it's really recognizing STEM teachers.
Alfred, the deadline is rapidly approaching for this year's awards applications – fill us in on when it is, and what needs to be done…
We opened up the request for proposals on May 21st, through an online submission that can be made through the open application period, which as you stated closes September 24th of this year, and we did that in a strategic way.  We wanted to provide teachers with awareness of this award at the end of the school year.  That would allow them time over the summer to actually reflect and prepare their proposal, and to hopefully make final submission at the beginning of the school year.  We typically ended the application previously in mid-September, but knowing how busy teachers are at the beginning of each school year, we decided to extend it an additional week.  So we're very hopeful that that will result in an increasing applicant pool.
Are there any other important aspects of the application process that interested teachers need to know?
I think that grant applications in some instances can be intimidating, especially when you're referring to the best and brightest across the state in STEM teaching and learning.  I would offer to teachers that the Burroughs Wellcome Fund seeks to recognize the best and brightest, and we know that teachers across the state are talented.  Many of them feel that promoting themselves is somewhat difficult.  But we seek for them to do that, to highlight their accomplishments, to highlight the body of work, their successes, and what they would propose in terms of having an impact on student growth and outcomes.  So the grant application itself is somewhat formal.  The process in reviewing selections is somewhat formal.  But teachers should be able to relax and simply reflect and propose, knowing that they do wonderful things in the classroom every day, and we'd just like to know more about what they're doing and recognize them.
So should interested teachers contact you directly if they have questions about the application process, or the status of their applications?
I think those interested in applying should perhaps go to our website and get a good general overview of the award program itself, and after reviewing the information shared on the website, feel free to give our staff a call for any questions or if they need additional information.  I would also suggest that those interested perhaps visit our website and look at our prior award recipients. Our cohort of awardees stand ready to answer questions and actually share information about their experience from the application process through the actual end of the award period and the impact that they've had as a result of the award.
Alfred, thanks for joining me today to help generate new interest and enthusiasm for the Burroughs Wellcome Fund Career Award for Science and Mathematics Teachers!
Thank you, Ernie, and thanks for sharing this information with our audience.