Burroughs Wellcome Fund Rewards Outstanding STEM Teachers in North Carolina
RESEARCH TRIANGLE PARK, NC – During the past two weeks, Burroughs Wellcome Fund Program Officer Alfred Mays collected miles on North Carolina highways.  From the Fund's headquarters in Research Triangle Park, Mays traveled west to King's Mountain then east to Ansonville. He then visited Battleboro in Edgecombe County.  And finally, it was back west to West Marion and Yancey in the Blue Ridge.  All this driving was to personally inform the 2019 recipients of the Fund's Career Award for Science and Mathematics Teachers, which recognizes outstanding STEM classroom teachers in North Carolina public schools.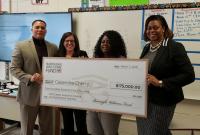 This year's recipients are:
Casandra Cherry
Philips Middle School
Edgecombe County Schools
Renata Sabine Crawley
West Marion Elementary
McDowell County Schools
C. Justin Jones
Ansonville Elementary School
Anson County Schools
Beverly Owens
Kings Mountain Middle School
Cleveland County Schools
Sara-Elizabeth (Sallie) Senseney
Mountain Heritage High School
Yancey County Schools
"Witnessing the reaction of the teachers and their students is something I'll never forget," said Mays.  "This award recognizes the excellence of an individual teacher, and will impact the entire school and school district."
The Career Award for Science and Mathematics Teachers was created in 2009 to provide outstanding STEM teachers in NC with professional development, equipment and supplies, and salary support.
"Teachers are in a unique position to make a difference in a child's life," said Fund President Dr. John Burris.  "We awarded individuals who have an infectious enthusiasm for the STEM subjects and teach with empathy and skill."
In the decade since the creation of the Career Awards for Science and Mathematics Teachers, the Fund has recognized 33 N.C. teachers for an investment of more than $5.4 million.
###
Media Contact:  Russ Campbell at news@bwfund.org