RESEARCH TRIANGLE PARK, NC – Burroughs Wellcome Fund Program Officer Alfred Mays was recognized by North Carolina Governor Roy Cooper as an African American education leader for his efforts in promoting diversity in STEM education across North Carolina.
"Today we recognize and celebrate North Carolina's African American leaders in education, and I am grateful for their contributions to our state," said Gov. Cooper in a news release from the Governor's office. "Their leadership is particularly important right now as we work to improve diversity in the teaching profession to help our students succeed."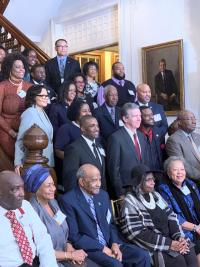 The event was hosted by the N.C. African American Heritage Commission and the N.C. Department of Natural and Cultural Resources. "
I am very proud of all that Alfred has achieved in working for the students of North Carolina," said President and CEO Dr. Louis Muglia. "We are grateful to have him as a part of the BWF family."
Mays began his tenure with BWF in 2015 and is responsible for strategic program development in science education and diversity in science. He directs a portfolio of competitive and strategic grants and serves on a number of nonprofit educational and civic boards. Mays' active engagement in diversity includes collaboration with the Color of Education, a partnership between the Public School Forum of North Carolina, The Samuel DuBois Cook Center on Social Equity, and Policy Bridge at Duke University Sanford School of Public Policy to achieve racial equity, co-lead for the RACE 2.0 project to return the Science of Race Exhibit to North Carolina permanently, coordination of various diversity enrichment networks, and contributor to various local, state and national diversity, equity, and inclusion STEM initiatives.
Mays was the founder of EdSync Strategies, Inc., an education contract service that provided assistance to NC eLearning Commission, NC STEM Learning Network, rural NC public school systems and the Public School Forum. From 2007-2011, he served as the assistant director of the Collaborative Project, an initiative that "sought to strengthen participating school systems serving low-income students in rural areas of the state." Mays also worked with the University of North Carolina General Administration, serving as the director of information resources and director of special projects.
For a full list of recognized leaders, please visit: Governor Cooper Honors African American Education Leaders During Black History Month
Image by Tomika Altman.
Media contact:  Russ Campbell at 919-667-8866