Grant Deadlines
Career Awards at the Scientific Interface
Five-year awards for $500,000 Interdisciplinary Ph.D.s
Deadline:  1 SEP 2020
Career Awards for Science and Mathematics Teachers 
$175,000 over a period of five years Science and Mathematics Teachers in North Carolina
Deadline:  30 SEP 2020
Career Awards for Medical Scientists
$700,000 over five years Opportunities for early career medical scientists at US or Canadian degree-granting institutes
Deadline: 1 OCT 2020
Next Gen Pregnancy Initiative 
$500,000 over a four-year period Awards designed to bring together diverse groups of scientists to address preterm birth issues
Deadline: 1 DEC 2020
###
Focus in Sound – Ep. 26
In this Special Edition of FOCUS In Sound, we meet with the CEO and President of the Burroughs Wellcome Fund, Dr. Louis Muglia, who will guide us through the Fund's multi-faceted response to the COVID-19 pandemic, and will discuss the Fund's stance on Social Justice.

Burroughs Wellcome Fund · Focus in Sound 26 – Louis Muglia

Grant Awardee partnership bears new and surprising fruit
Staying connected has proven challenging for many, these last few months. But in spite of it all, two Burroughs Wellcome Fund awardees – one outstanding scientist and one outstanding educator – have come together during COVID to show the power of a simple act of kindness.
Beverly Owens and Antenor (AJ) Hinton met during the Burroughs Wellcome Fund STEM Awardee Conference, after being selected for the Career Awards for Science and Mathematics Teachers (CASMT) and Postdoctoral Enrichment Program (PDEP), respectively. When Hinton's lab ran short of essential protective gear for students, Beverly answered the call. Now they are working together on a summer e-learning program for schools throughout North Carolina, and plan to scale the model for schools nationwide.
Focus in Sound – Ep. 25
In this edition of FOCUS In Sound, we meet a Burroughs Wellcome Fund grantee who is not only an accomplished scientist, but also a published children's book author.
Dr. Theanne Griffith has just had the first two of her three-book STEM-themed chapter book series called The Magnificent Makers released, with number 3 scheduled to come out in September 2020.
Griffith is an instructor in the Department of Physiology, Pharmacology, and Neuroscience at Rutgers University. She is a neuroscientist with a Ph.D. from Northwestern University. She completed her postdoc at Columbia University in 2019. In 2017 she was recognized in the Burroughs Wellcome Fund's Postdoctoral Enrichment Program. The PDEP provides a total of $60,000 over three years to support the career development activities for underrepresented minority postdoctoral fellows.
Burroughs Wellcome Fund · Focus in Sound 25 – Dr. Theanne Griffith>Special Article – Science Counts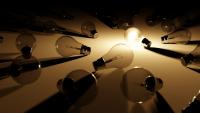 In 2015, a benchmark science communication study by Science Counts (supported by Burroughs Wellcome Fund) brought some truly welcome news: for the vast majority of the American public, the word "science" represents hope, optimism, and a path to a better future.
Now fast-forward to November 2019 – to new problems, new policies, and an apparent explosion of "anti-science" sentiment online. Should the same group pose the same questions, you might presume a quite different result. Yet when Science Counts did just that, they found that the same general truth still holds: the public value science, and the public value scientists.
BWF Board Member Dr. Jenny Ting Named AAI President
My term starts, however, against a backdrop of unprecedented and troubling events that affect us all. First and foremost, we are living during an historic pandemic with a morbidity and mortality rate none of us has experienced in our lifetimes; because of this, personal and professional lives have been upended and most of the world's economies are in recession. In the United States, three-quarters of Americans believe that the nation is on a wrong path, and we are facing a historic election to decide the character of the nation.
At the same time, massive worldwide protests demanding racial justice and social change were ignited by the callous murder of George Floyd and the long list of killings of innocent African American men, women, teenagers—and even children—that preceded it. It is in these very turbulent times, yet crucial period of significance for immunology, that I am humbled to assume this important leadership role on behalf of my AAI colleagues.