The Burroughs Wellcome Fund as an organization maintains a core mission to foster diversity, equity, and inclusion in science, education, and society. We will continue to use our voice for social justice and not be silent while the plague of racism continues to infest our society. The abuses and discrimination Black Americans suffer is a festering wound to a country that was founded on the values of human dignity, freedom, and justice.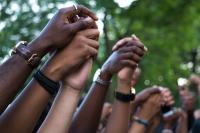 During this past weekend, images emerged that evoked memories of the episodes of inhumanity that blight history, but there were also images of kindness, compassion, and resilience. Nelson Mandela said, "No one is born hating another person because of the color of his skin or his background or his religion. People must learn to hate, and if they can learn to hate, they can be taught to love, for love comes more naturally to the human heart than its opposite."
Racism runs deep into society's fabric. Science has been used as a tool to attempt to propagate a rationale for disparities among the races in health, wealth, education and the other foundational human rights. My own research has attempted to understand the adverse pregnancy outcomes for both Black American babies and mothers. The disparities are long-standing, multi-factorial and refractory, with racism a key driver that we must seek to overcome at every level.
Our role now is to act. The Burroughs Wellcome Fund will work to determine a course of action to leverage our resources to address racism in science and society. We intend to raise the voices of our community to address issues and concerns of science and social justice. For the past year, we have been working to bring Race: Are We So Different as a permanent exhibit in North Carolina and will continue to take action to address health, wealth, and education disparities based on race.
Clearly, given current events, this is not nearly adequate. We will do more.
From STEM educators to researchers, we will listen, we will engage, and we will provide support. We must bring together diverse voices to bring our country closer to justice, mutual respect, and unity.
I urge philanthropic leaders to join me in standing against racism and encouraging conversations about the racial inequities in our society.
I leave the final words to James Baldwin: "Not everything that is faced can be changed, but nothing can be changed until it is faced."
Louis J. Muglia, MD, PhD
CEO and President
Burroughs Wellcome Fund